Widely regarded as one of Canada's finest flutists, Patricia Creighton is Principal Flautist of Symphony Nova Scotia, a position she has held since 1984. She has performed in Canada, the United States, Mexico, Germany, Switzerland, Czechoslovakia, and has shared the stage as a chamber and orchestral musician with many distinguished artists, including Julius Baker, Robert Cram, Isaac Stern, Maureen Forrester, Steven Dann, Fred Sherry, Malcolm Lowe, Erica Goodman and Anton Kuerti.
Patricia Creighton performs on a flute and head joint, which were custom-made for her by Wimberly Flutes.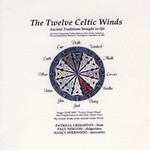 A fascinating flute and didgeridoo improvised recording based upon a twelve-part form depicting characteristics of the twelve directional winds from the ancient Gaelic world.