The Rawlins Piano Trio is a dynamic group of performers, teachers and scholars, distinguishing itself in arts outreach, masterclasses and a variety of performances. Prestigious performance venues include Sejong Chamber Hall (Seoul, South Korea), Chiang-Kai-Shek Cultural Center (Kaohsiung, Taiwan), Teatro de Anita Villalaz for the Fundación Sinfonía Concertante de Panama and national conferences of the College Music Society and Chamber Music America.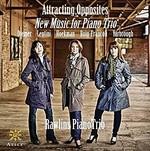 Works by commissioned composers: Emma Lou Diemer, Steven Yarbrough, James Lentini, Roig-Francoli and Timothy Hoekman
Performed by Eunho Kim, violin, Marie-Elaine Gagnon, cello and Susan Keith Gray, piano with Carla Connors, soprano
Last night's performance was a real tour de force!
— André P. Larson, Ph.D., Director, National Music Museum